We're always looking for high-quality pre‑owned vehicles. Get a real offer for your vehicle in just minutes & sell your car the easy way!
Get Your Offer
---
Share some details about your vehicle and receive a real offer within minutes.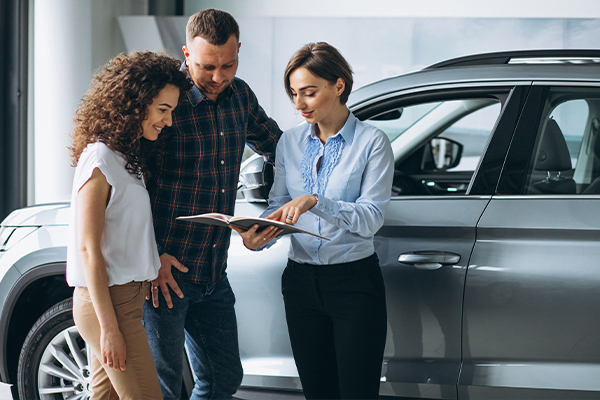 Trade‑In Or Sell
---
Once you have your offer you can either trade the vehicle in for a new one, or simply just sell it to Bison Ford.
Get Paid
---
Once you decide that you are selling to us, we will do a final inspection and cut you a check — it's that easy!
Get Your Trade Evaluation
We're giving you an easy, no-pressure, and transparent process for receiving fair market value for your vehicle.
To start the process of selling your vehicle to Bison Ford in Great Falls, MT, use one of our following options:
2
Upload your VIN and vehicle photos in the chat below.
Why Sell Your Vehicle To
Bison Ford?
We'll buy your vehicle, even if you don't purchase

from us.

Get a quick quote online.
No obligation to sell

or purchase.
What Should You Bring When Selling
Your Car?
Valid title and/or payoff information of original

bank loan.

Valid license & current registration.
All keys, remotes

& owners manuals.
How Do We Determine Your Final Offer?
Our trained buyers have the experience to get you the best possible offer.
Condition & Mileage
---
We will look at the vehicle inside and out to assess if there are any issues, for example, excess upholstery wear or frame damage. We will also confirm the mileage, as it can increase or decrease our final offer.
Features & Options
---
The packages, features, and options your vehicle has not only makes it unique but may add value.
Vehicle History Report
---
By looking at accident and service records, we can get great insight into the vehicle's background.
How Your Car Drives
---
Prior to a final offer, we will perform a test drive to check how it drives and things like the brakes and the steering.
Are you looking to get a great price for
your vehicle?
Our Montana car dealership is always looking for high‑quality pre‑owned vehicles. At Bison Ford, we have expert vehicle appraisers who will give you a true‑market trade‑in value for your car. If you are looking to sell your vehicle in Great Falls, Fort Benton, Bozeman, Helena, Havre, Lewistown, Missoula, Kalispell, Butte, Billings and beyond‑make sure you get a personalized trade appraisal at Bison Ford first.
Visit our Ford Dealership
In Great Falls, MT 59405
---