Commitment to Community
At Bison Ford, we take great pride in aiding our community. We consider it a privilege to assist organizations and individuals as they improve our world and make a difference in the lives of others. Here are a few of the many ways in which we're giving back. They're our humble way of saying "Thank You."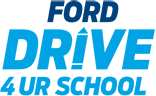 Our first 2019 Drive One 4 UR School has been announced!
On Saturday, June 8th, we will be conducting free test drives at Bison Ford to benefit North Middle School and Lincoln, Morningside, and Lewis and Clark Elementary Schools. For every test drive supporters take, Ford Motor Company will pay the schools $20, up to a total of $8,000.
These funds will go towards wish list items like new lunch tables, security features, technology and classroom grants. This is a great way to support these schools that's free of charge to you!
Stay tuned for future 2019 events and please come down and support your Great Falls area schools.
Learn More +