Commitment to Community
At Bison Ford, we take great pride in aiding our community. We consider it a privilege to assist organizations and individuals as they improve our world and make a difference in the lives of others. Here are a few of the many ways in which we're giving back. They're our humble way of saying "Thank You."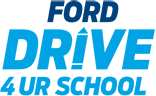 We would like thank the Community For All Their Support.
We have raised $6700 so far in 2019 and a total of $67,380 for Great Falls schools and non-profits since the inception of Ford Drive 4UR School/Community.
2019 Results
North Middle School earned $1675.
They are planning to buy some new lunch tables with their proceeds.
Lincoln Elementary earned $1675.
They are working towards on new doors and a buzz-in system.
Morningside Elementary earned $1675.
They are earmarking their money for mini grants for teachers.
Lewis and Clark Elementary earned $1675.
They are saving up for technology, security and teacher grants.
Our next event is scheduled from 9am to noon on Sunday, September 1st at Bison Ford. We will be raising money for the University of Providence Wrestling teams and Disabled American Veterans. Our goal is $3,000 for each organization!

Our final 2019 event is scheduled from 11am to 4pm on Saturday, September 14th at Arts on Fire at the Paris Gibson Square Museum of Art. We have the opportunity to raise up to $6000, which will be split equally between PGSMOA, Whittier Elementary and Mountain View Elementary.
Learn More +